Eric Rominger Friend of NAU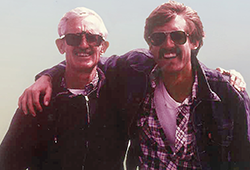 Professors are greatly driven by a desire to inspire and change the lives of young students. One of the very best at that goal was Dr. James M Rominger, who was NAU's Professor of Botany and the Curatorship of the Deaver Herbarium from 1963 until 1991. He was then promoted to Professor Emeritus until his passing in the fall of 2015. Dr. Rominger's students spread out all over the country and went on to successful lives and careers in a wide array of exciting endeavors.
Two of those students, Mr. Terry Damron and Dr. Steve Carothers started the Dr. James M. Rominger Scholarship in honor of the profound impact that Dr. Rominger had on their lives and the lives of other students at NAU. Dr. Rominger's son Eric recalls how proud his father was the day that he learned of the scholarship, and the idea of its future impact toward helping NAU students.
Eric, also a beneficiary of his father's instruction and inspiration, progressed in his career from a fire fighter to a Bighorn Sheep Biologist for the New Mexico Department of Game and Fish. While early in his career fighting wild fires with other crews from around the state, people would often recognize the name on his hard hat and ask "Is Dr. Rominger your Dad?!" The question was often followed by "he was the best professor I ever had."
Eric, inspired by his father, has made a generous planned gift through his will that will add to the scholarship fund bearing his father's name. "I gave to honor my father, and to follow in his footsteps of helping students receive educational experiences that will change their lives. A bequest in my will allows me to give much more after my lifetime than I could give today."
If you were fortunate enough to have Dr. Rominger as a professor during your time at NAU, and would like to honor his legacy by adding to the student scholarship fund in his name, we encourage you to give us a call or
click here
to donate now. A gift through your will or estate plan, like Dr. Rominger's son Eric has done, is a great way to make a lasting impact and to create your own legacy.