Planned Giving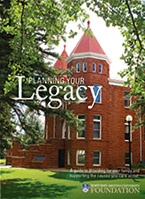 Request your FREE Wills Planning Guide
The Heritage Society is a special group of NAU supporters who have included the NAU Foundation in their estate plans, such as a bequest, beneficiary, life insurance, charitable gift annuity or charitable trust. If you are interested in creating a planned gift for the benefit of NAU or have already done so, please let us know so we can provide you any information you may need, and thank you personally for your generosity!

Planned Gifts Calculator

Please select a presentation that shows the income and tax benefits for you. You may view a unitrust, annuity trust, gift annuity, deferred gift annuity, sale and unitrust or gift and sale. We hope you enjoy these presentations!