Robert McGuinn '67 Arts and Sciences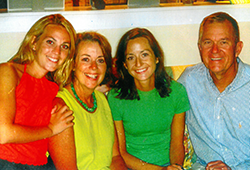 DR. ROBERT "BOB" McGUINN, understands first-hand the unique challenges faced by Veterans returning to school to complete their education. Bob graduated from Northern Arizona University shortly before joining the Marine Corps as an infantry officer in Vietnam. "When I attended NAU, it was a small school, but provided a great foundation of my advanced education."
Bob built a lifelong friendship with John Joyce while attending NAU. The two went on to Marine Corps Office Candidate School after graduation. Unfortunately, John did not return from Vietnam. Bob continues to honor 1st Lt. Joyce, an incredible friend and distinguished service man, with a scholarship he has created through his estate to help student veterans.
"I've always wanted to honor John Joyce, and helping veterans in obtaining their education would be the best way."
In 1970, Bob enrolled in dental school at the University of Louisville while remaining active in the Marine Corps Reserve as a tank officer. He served his Country both as active duty and reserve for 38 years. Bob and his wife of 46 years, Penny, went on to raise two amazing girls in the suburbs of Atlanta, Georgia. Education has always been a priority in their lives, and NAU is thankful for the opportunity to be a major stepping stone in the McGuinn's life journey.