Edwin Kurtz Friend of KNAU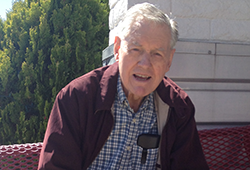 The first time I heard KNAU was when I was driving from Texas to move to Flagstaff, Arizona. When I drove through Holbrook, I turned the dial on the radio and was fortunate to find KNAU. That was in 1989 and I've been listening ever since," said Dr. Ed Kurtz. "If you turn on any of the radios in my home, and of course my car, you'll hear the programs of KNAU. I never turn the dial."
Dr. Kurtz, a University of Arizona retired faculty member, supports several areas of Northern Arizona University, including Athletics and Opera, as well as being a long time listener and KNAU Member ever since he made that drive from Texas. Since he moved to Flagstaff over 20 years ago, he has enjoyed the many events and opportunities NAU has to offer.
Ed continues his annual support of KNAU and recently decided he wanted to do more for the station that he loves so much. "KNAU plays my favorite music and is one of my top news sources. I wanted to invest more than my annual support for the station that does so much each day for me."
Ed set up a charitable gift annuity in support of KNAU. "It would be a terrible shame to not have access to such high quality programs and diverse music. I am proud to invest in the future of NAU and KNAU."