Jeff Willis '72 Arts and Sciences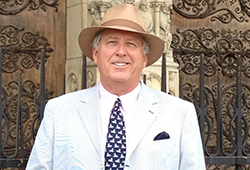 "It has been a joy for me to see NAU position itself as the pre-eminent undergraduate university in Arizona." Jeff Willis has a long history with Northern Arizona University. Besides being one of the first graduates of the NAU Honors Program, his father, Dr. William Willis, was the chair of the NAU Physics Department from 1967–1989, and many of his family members attended here as well.
While attending NAU, Jeff participated heartily in campus life—from Blue Key and Sophos to intramural football. He credits gifted professors such as Richard Davies, Eldon Bowman, and Leonard Ritt for providing an outstanding education that prepared him to graduate with honors from NAU, then cum laude from Washington and Lee University School of Law and continue into a distinguished career as a commercial litigation attorney in Tucson.
A member of the NAU Foundation Board, Jeff has had a front row seat to the evolution of Northern Arizona University from the "small campus on the mountain" to the global university of today. His belief in the future of NAU is so strong that he has included the NAU Foundation in his estate plans.
"It takes commitment on the part of all our alumni to ensure that NAU continues to provide an excellent, affordable education to its students. It's important to me to be a part of that, and encourage others as well."