Jeff Sears '98 Communications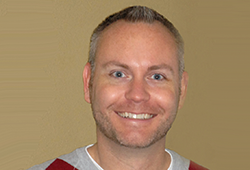 Everyone needs a reason to begin their estate planning, and Jeff W. Sears BS'98 took his reason very seriously. His mother needed a kidney, and Jeff was a match. Facing a potentially life-threatening surgery, Jeff spent some time getting his affairs in order, including creating an estate plan.
Jeff included the NAU Foundation in his plan because of the opportunities his education at Northern Arizona University afforded him. Although he chose NAU for purely practical reasons (NAU offered a degree in his preferred major, and he could live in his parents' summer home during school) he soon jumped in feet first to all the activities available to him, including Greek life and student government.
"I wanted to give back to the university some of what I've received," Jeff shared. "NAU shaped me and the opportunities I've had have been priceless. It was so easy to create this gift, and it's never too early to be thinking about how you want things handled after you're not around."
As a member of the Alumni Association Board of Directors, Jeff sees firsthand the many ways alumni can become involved with NAU, even when they don't live in Flagstaff, or even Arizona. Jeff, who travels internationally quite frequently as the strategic account director for Avant Healthcare Marketing, lives in Indianapolis, and yet finds time to volunteer for his alma mater.
"Andre Malraux said, 'A man is the sum of his actions, of what he has done, of what he can do, nothing else,'" Jeff said. "That's what's really important—the impact we have on others, and how we can help shape the future for the better."